hazel nuts chocolate, harco, golf at que
by craig
On Friday night I went down to Club Que in Shimokitazawa to see Hazel Nuts Chocolate, Harco and Golf.
Hazel Nuts Chocolate
put on a bit of a different show than usual. The singer, Yuppa, was looking a lot more serious than usual and the band seemed to have decided they were a rock band. Still incredibly cute of course, but it seems as if cuteness is becoming less of a part of their style. Their last album, 'Cute', apart from having the most fitting title of all time, had some great silly ditties and crazy Plus-Tech Squeeze Box-like moments. One of my favourite things is how Yuppa tries to fit too many words in a line in her sped-up child-like voice. Anyway, on Friday night it seemed to be all about the guitars and funny rock poses. Definitely the band of the evening. I was grinning like an over-supportive mother throughout the whole performance.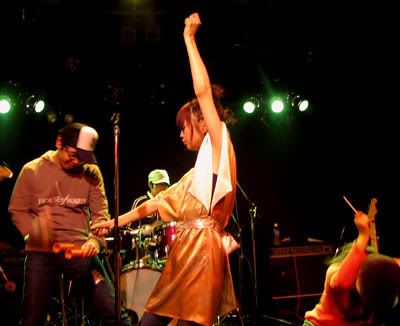 All the young girls who were up the front worshipping Yuppa during Hazel Nuts Chocolate moved back to let the older ladies move up to grin at handsome
Harco
. I have one of his CDs around somewhere that I bought years ago and liked during my late-90s preppy Japanese pop phase. I've also been listing his shows on Tokyo Gig Guide since it started but had never actually seen him play live. On Friday night he sounded like Hideki Kaji if Hideki Kaji were a kinda boring keyboard-playing singer. Funnily, the best song was one that Harco co-wrote with Kaji. I know Harco is an important Tokyo indie-pop scene veteran but I wasn't really in the mood on Friday night. Not cute enough.
I had been really looking forward to seeing
Golf
. I really liked their mini-album 'The Gift.' Interesting, quiet, experimental pop. I wanted to see how they would be live, however since they recorded 'The Gift' it seems like they've become more.. just pop. Live, and with their latest mini-album, 'Yellow', the singer has become more confident and his great voice is what leads the band and what could actually make them popular commercially. Seriously, his voice is quite beautiful. But for me, the best thing about them are the sublime moments with trumpets and melodica, or when they incorporate electronic sounds and beats. The rest of the time it's fairly standard guitar pop/rock. They were a tight live band and a friendly-looking bunch of guys and girls. They seemed to be good friends plus a bit nervous so were always looking at each other and smiling and giggling. cute!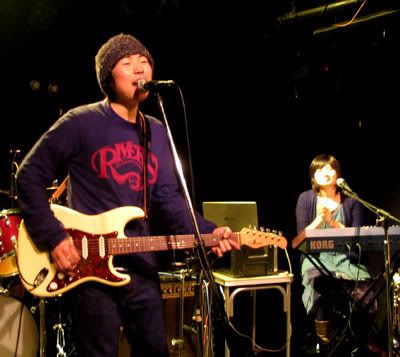 Labels: bands, cute, golf, harco, hazel nuts chocolate, que, shimokitazawa